Inclusive Economy Perspectives
A magazine that explores urgent calls for a more just and equitable world.
Created by Nuova Global Foundation, this publication is part of a global network of media houses that share a common belief in using media to create a united world.
Request a free version (PDF)
6 highlights of what you can expect from Inclusive Economy Perspectives
Unique Insights
The magazine offers insights and perspectives from experts and leaders across the world to help shape the debate on creating a more inclusive economy.
.
Stories of Impact
You'll read stories of successful collaborations between businesses, governments, and communities to reduce inequalities and promote sustainable economic growth.
Holistic Ecology
Inclusive Economy Perspectives is committed to addressing the interconnectedness of social, economic, and environmental challenges to create a more equitable world.
Women Empowerment
The magazine provides a platform for women leaders and entrepreneurs to share their experiences and insights to inspire and empower others.
Poverty Alleviation
You'll find inspiring stories of how people and organizations are working to alleviate poverty and create sustainable economic opportunities.
.
Global Cooperation
Inclusive Economy Perspectives encourages greater collaboration and interdependence among developed and emerging economies to bring about real change to people's lives.
How Inclusive?
A global survey to gauge perceptions of the current state of economic inclusion
Second Chances Matter
What started as a university project in the US helped dozens of formerly incarcerated women
Weaving Resilience
How female entrepreneurship can be a transformative agent of change
Power of Networks
A perspective by the leader of one of the largest volunteer networks in the world
"This is a little heaven"
The former street kid in India who is making it better for others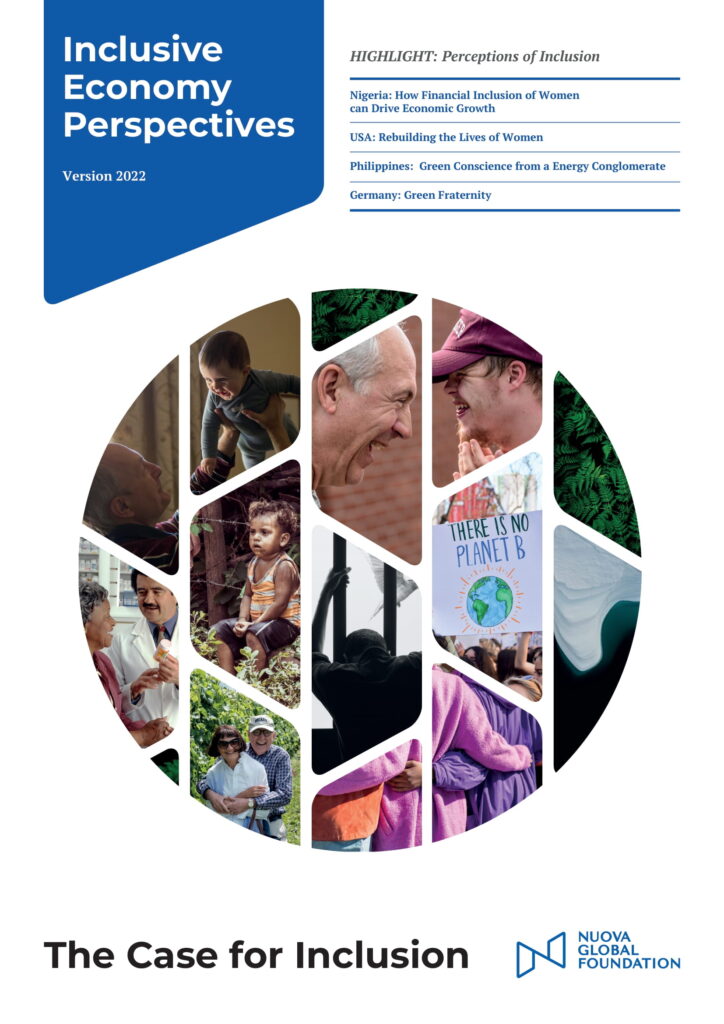 Small Change for Big Difference
An ex-top banker scales impact through microcredit
Closing the Gender Gap 
A perspective by an angel investor in Nigeria on the key to unlocking economic growth
The Green Conscience
The transformation of a large energy conglomerate to deliver climate change
Green Fraternity
A growing climate crisis is generating new examples of unity to face climate change
Green Regulation
The world needs green regulation to mandate urgent changes to meet climate change goals
Overview
The Inclusive Economy Perspectives is an initiative from Nuova Global Foundation which represents a global network of media houses that believes in shaping a united world through the media. This initiative seeks to inspire and encourage governments, businesses and individuals to collaborate towards reducing social and economic inequalities in an increasingly divided world.
Objective
To leverage media and journalism to educate, inspire and empower enterprises globally to adopt an inclusive and sustainable model for economic growth.
Fill up the form to download free version